Cincinnati Wildflower Preservation Society
(Ohio Native Plant Society, Southwest Ohio Chapter)
Updated Tues Oct 28, 2014 at 6 pm
Our hikes and lectures are free and open to the public, (but we depend on our memberships to cover our expenses.) Come learn about Cincinnati Native Plants. The Cincinnati Wild Flower Preservation Society welcomes you to our great (and free) events. All are welcome. Our 2014-15 Annual Schedule and Sept Newsletter are now available.Don't forget to renew your membership !
----------------- November 2014-----------------
stiff gentian Travertine Fen Kalm's Lobelia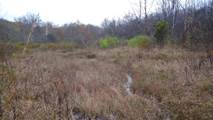 Call for Volunteers: Saturday, November 1, 9 am: Give Back Day, Site Improvement and Restoration Blitz, Travertine Fen State Nature Preserve, Greene County,Ohio (near the town of Spring Valley, Ohio which is southeast of Dayton, Ohio)
Join the Cincinnati Wild Flower Preservation Society, Preserve Custodian of Greene County Parks and Trails, Ohio State Botanist Rick Gardner, the Division of Natural Areas and Preserves (DNAP), the Ohio Natural Areas and Preserves Association (ONAPA), and the Friends of the Little Miami River State Park (FLMSP), along with employees and supporters of these groups, as we draw statewide support in sponsoring a restoration and site enhancement event for the Travertine Fen State Nature Preserve.
Come help all your friends and kindred spirits continue the protection and improvement of this natural treasure.
Travertine Fen is a 21-acre state nature preserve currently open by special permit only. It's situated along the base of a wide hill with numerous artesian springs and seeps, and it contains one of the largest open prairie fen meadows in the state. This is the southern most intact fen in the southwest Ohio fen region extending from southern Logan County to northern Warren County. Over the years, the artesian springs have cut deeply into the fen meadow and exposed the travertine marl deposits. This natural disturbance has increased the area of open marl and provided additional habitat for many of the fen's rare plant species.
We need your help and there is something for everyone: trail enhancement, signage installation, boardwalk and bridge completion, woody invasive removal, and solarization with black plastic sheeting to smother a quarter-acre of invasive sweet flag.
Food, Fens and Friends
This is going to be a great social and educational work event with a barbeque grill-out lunch. The state's best naturalists, botanists, geologists, and ecologists will be available to answer your questions and discuss the natural history and geological features of this unique site.
Registration: 8:00-9:30 AM
Event Activities: 9:00 AM-noon
Lunch: noon-2:00 PM with camaraderie,presentations and Q & A
Sign up a team of 4 or more or donate a minimum of $50 for your organization's recognition on the official eventT-shirt!
Volunteers needed for this day are:
* Crew Leaders: for theinvasive removal teams
* Woody Invasive Cutters:(loppers, bow saws, non-power equipment)
* Power Equipment (Chainsaw& Steel Blade) Operators (must be pre-registered)
* Cut Stump TreatmentSpecialists (using spray bottles)
* Trail Builders: personnelto enhance and construct foot trails
* Boardwalk Deck SurfaceInstallers
* Registration Crew: meet andgreet participants
* Lunch Crew: setting uptables and chairs, minimal food prep
* Couriers: taking teams totheir worksites
Bring your favorite tools of the trade:gloves, pruners, loppers, saws, trimmers and protective gear. We will have tools and safety equipment for all those new to invasive removal and habitat enhancement. Spray bottles and gloves for cut stump treatment will be furnished.Wear waterproof boots. Rubber boots will allow you to travel around the property with the most ease. There will be an area available for your organization's table display and literature. Come promote your group's special events. Please invite your friends to join in the fun!
Please contact Christine Hadley, president of the Cincinnati Wild Flower Preservation Society (founded in 1917 by LucyBraun), at 513-850-9585 or email for information, to sponsor the event, or totell us how you would like to volunteer.
Directions: Travertine SNP is located in Greene County,off the Little Miami Scenic Bikeway in the town of Spring Valley. Take US Route 42 towards Spring Valley, then take Route 725 into Spring Valley. Turn right onto Bellbrook Avenue. Look for signs directing you to the event. Travertine Fen is located off of the bike trail which is right next to Spring Valley Body Shop, 200 Bellbrook Ave.,Spring Valley, OH 45370.
More specifically, one route from downtown Cincinnati takes about 1 hour (Click here for a map from Cincy.)
Take I-71 north for 27 miles to Route 48N (exit #28)
Merge onto 48N and drive 3.5 miles and a further 1.9 miles on OH 48 bypass (follow the signs that say "to 42N")
Turn Right on US-42N and drive 14.3 miles, to the first road after crossing Little Miami River.
Turn Left on OH-725 W and drive 1.0 mile.
Turn Right on Bellbrook Ave and drive 0.1 miles
Friday, November 14, 2014 7:30 pm: Lecture Program, Avon Woods Nature Center
"Mothing" presented by Flower White
Everyone who has attended the CWFPS members' photo-sharing program the last several yearshas marveled at Flower White's dazzling close-ups of moths, and her full length mothing program is extremely popular. Organizing the images by family, andi ncluding shots of various life stages, Flower will discuss the complex natural history of some of these lovely creatures of the night.

Saturday, November 15,2014 9 am: Give Back Day, Honeysuckle Removal, Hazelwood Botanical Preserve
Joinus to help eradicate invasive bush honeysuckle in the preserve. Volunteers need to bring their gloves, loppers, and other implements of destruction. Spray bottles with glyphosate will be furnished. Dress appropriately for theweather.
The Harris M. Benedict Nature Preserve, aka Hazelwood Botanical Preserve, owned by the University of Cincinnati Department of Biological Sciences, was designated a National Natural Landmark in 1977 by the Department of the Interior for the study of plants and animals in eastern deciduous forests. This preserve, unique for its location and diverse habitat, has a wonderful mature forest. Interestingly,Harris Benedict was chair of the UC Botany Department at the time of his death in 1928, when a streetcar struck his auto. Benedict was E. Lucy Braun's doctoral advisor. Braun studied Hazelwood.
Many of the mature trees were destroyed by the lethal April 9, 1999, F4 tornado,drastically altering the landscape. Although our members have successfully removed honeysuckle here for 16 years, the honeysuckle experienced a great resurgence after the tornado opened the forest canopy to more sunlight.
For more information, contact Christine Hadley at 513-850-9585 or email .
Directions: From I-71, take exit #15(Pfeiffer Rd).
Drive east for 0.7 mile.
Turn left (north) on Deerfield Road for0.8 mile to the "T".
Turn left (west) STILL on Deerfield Rd. for 0.1mile.
Meet at the Johnson Nature Preserve parking lot on theright.
The address is 10840 Deerfield Road, Montgomery, Ohio. Driving timefrom downtown Cincinnati is 20 minutes.
----------------- December 2014-----------------
Sunday, December 7, 2014
3:00 pm: Annual Hardy Souls' Hike, Mount Airy Forest, Hamilton County, Ohio (followed by the holiday potluck and program)

Randy Johnson will lead us on our Hardy Souls hike at Mount Airy, a Cincinnati park. We will hike for about an hour before the potluck.Parts of the forest will be closed for deer reduction hunting at this time, butwe will be hiking in the open areas that are closed to hunting. Nonetheless,wear brightly colored clothing.Call ChristineHadley at 513-850-9585 or email if you have questions.
Directions: Enter Mount Airy Forest off Colerain Ave (just at the top of the hill on Colerain) and take an immediate left. Follow this road to the oval and park on the north side. Meet in front of the restrooms (which will be closed).
After the hike, proceed to Northern Hills Fellowship
for wine and appetizers at 5:15 pm and
the holiday potluck dinner at 5:45 pm.
Bring your favorite dish! If you'd like to be assigned a category —appetizer,entrée, etc.—call Brian Herriott at 513-407-8585.
Sunday, December 7, 2014 7:00 pm: Lecture, Northern Hills Fellowship
"White Nose Syndrome and Ohio Bat Populations"
Dr.Dale Sparks, Environmental Solutions & Innovations, Inc.
White Nose Syndrome (WNS), a generally fatal fungal infectionfirst observed in 2006, continues to spread throughout the Eastern US andCanada, killing millions of hibernating bats of several species. Bat biologistDale Sparks will outline what is known about this devastating disease anddiscuss its present and long-term impacts.

Details of the following events will be available in our Jan 2015 Newsletter or on our website by Jan 3, 2015
2015
January 9, 2015 7:30 pm: Friday Program
Avon Woods Nature Center
"Ohio's Wild Orchids and Their Habitats" Andrew Lane Gibson
January 24, 2015 10 am: Saturday Indoor Tour, Cornelius J. Hauck's Botanical Book Collection, Cincinnati Museum Center, Hamilton Co., OH
February 13, 2015, 7:30 pm : Friday Program
Avon Woods Nature Center
"The Hidden World of Mosses and Lichens"
Dr.Robert A. Klips, Department of Evolution, Ecology and Organismal Biology, Ohio State University at Marion

March 7, 2015 : Saturday Field Trip
Mosses & Lichens at Caesar Creek State Park, WarrenCo., OH


March 13, 2015 : Friday Potluck & Lecture
Northern Hills Fellowship
5:15 pm Appetizers and fellowship
5:45 pm Covered dish potluck dinner
7:00 pm Annual Meeting and Program
"Effects of Emerald Ash Borer-caused Tree Mortality on Forest Regeneration"
Brian M. Hoven, Biology Department, Miami University


March 28, 2015 : Saturday Field Trip
Fort Hill State Memorial, Highland Co., OH
April 11, 2015 : Saturday Field Trip
Tower Park, Campbell Co., KY
April 26, 2015 : Sunday Field Trip
Whipple State Nature Preserve, Adams Co., OH
May 9, 2015: Saturday Field Trip
Orchids of Adams County and Shawnee State Forest, Adams and Scioto counties, OH
May 16, 2015 : Saturday Give Back Day, Garlic Mustard Pull, Caesar Creek Gorge State Nature Preserve
** June 7, 2015 : Sunday Field Trip
Picnic at Keystone Flora, Hamilton Co., OH
July 11, 2015 : Saturday Field Trip
Kamama Prairie, Adams Co., OH
July 18, 2015: Saturday Field Trip
Shawnee State Forest, Scioto Co., OH
August 8, 2015: Saturday Field Trip
Hazeldell Meadow and Daniel Boone National Forest, PulaskiCo., KY
August 22, 2015: SaturdayField Trip
Muscatatuck National Wildlife Refuge, Jackson and Jennings counties, IN
September 11, 2015: Friday Program
Avon Woods Nature Center
6:30 pm Picnic Supper
7:30 pm Members' Photo Sharing Program
September 12, 2015 :Saturday Field Trip
Spiranthes & Gentians of Adams County and Shawnee State Forest, Adams and Scioto counties, OH
If you are not yet a member, you are welcome to attend events. All of our events are free and open to the public. Of course if you enjoy our events, as we think you will, it is nice to join to help support the Society. Our hikes and lectures are excellent, in a wonderful casual atmosphere. You will have the opportunity to talk with our speakers after the meetings. Our hike leaders are knowledgeable and will be glad to point out the plants that we are seeing